The following is a list of expected presenters for TES Fest 2019. More to come. Please Note: All classes and events in are subject to change, cancellation, or attendance limitations without notice.
---
BoundToFly
BoundToFly is an out, gay leatherman & HIV activist who found his passion in Shibari. With his love of rock climbing, it seemed inevitable that rope bondage would be a natural fit, but it took the passion, energy & connection of Shibari & Kinbaku for it to click. With partner NJWaterDog, he dances b/w the gay leather & pansexual BDSM worlds, as well as the NY/NJ & Philly scenes. The co-organizer of NJ Rope Bite & founder of G-rope (a mens-only rope space), Bob can be found at play parties, performing, or teaching for TES, where he flags red Jute left.
---
Bumper
Bumper is a Leatherwoman and a Bootblack from the Mid-Atlantic Region. She was Mid Atlantic Leatherwoman Bootblack 2018 and is committed to educating the Mid-Atlantic region about bootblacking as a service and how we "preserve your leather and preserve your history.
Bumper has been active in the Leather/BDSM scene for 6 years. She is also a submissive, a service top, cigar lover, and an educator. Bumper is a producer for Virginia's first MX Leather contest. She is the Director for Soles With Heart, a program within The Leather Heart Foundation. She is a co-leader of The Hampton Roads Bootblacks, a group designed to practice the skill of bootblacking and breed baby bootblacks. She is a member and current Road Captain of Virginia Leatherwomen United (VLU). VLU is a safe space for all self-identified women to get together and enjoy female energy. Bumper is also a moderator and "in service" to The Crossroads Newbie Group, located in southeast Virginia. She is a member of LLICKS Leather family, whose focus is education, community and service. Her family follows the tenants of THIRD (Trust, Honor, Integrity, Respect, Discipline).
She was a judge for Philly Fetish and Bootblack Contest 2018 and for NJ Leather Weekend 2018. She has presented on various topics both regionally and nationally. Bumper is heavily involved in community service, education and fundraising in the Mid-Atlantic region. She bootblacks for many local and regional events, as blacking is one of her passions.
Bumper has found her home in the Mid Atlantic!
---
d20domme and Luckypuppy
d20domme is unapologetically kinky. Known as pint-height, poly(androus), plus-size, POC, 24/7 Femdom who knows what she wants and will use her craft in mindfuckery and persuasive viper tongue to get it. Ever evolving, she often equates her 10+ year journey into kink as 'falling down the rabbit hole' and constantly enjoys teaching and being taught new things among kinksters.
Her current fascinations are CBT, mummification, chastity, energy play, sissy training, and extreme erotic asphyxiation. She's has made the transition from Mundane to Mistress and wants to share that ongoing experience. Her hope is to show BDSM in a different light for those who are curious or confused about the lifestyle. Her main kink is normalizing kinky lifestyles across the board and thus she can often be found writing on her blog, chatting away on podcasts, teaching classes, demos, or presenting locally in the Washington, DC area, NY, and sometimes across the pond in Europe at events like Weekend Reunion, BESS, Dark Odyssey Summer Camp, TES, KinkFest, Beyond The Love, and more.
Luckypuppy is a pint sized, cheeky Englishman, who is in service to and likes to test his physical and mental limits with his wife and Mistress, d20domme. He is a fiercely loyal, strong-willed and (mostly) obedient submissive with interests tied to FLR, sissification, erotic hypnosis, CBT and breathplay. He has few hard limits aside from referring to football as soccer and has spoken on podcasts with his Mistress, helped host inclusive munches, and still considers himself one of the best demo dummies in the Washington, DC area and across the pond! He has pledged his life to serve his true love (no not Arsenal) in any way she sees fit and strives to better himself each day as her selfless servant.
---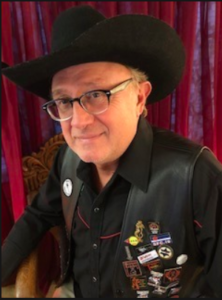 Dex
Dex is a Dominant who began his journey in the leather lifestyle over 19 years ago on an educational and self-reflective path of discovery. He was the leader of an extended leather family for several years, with a home that was well-known for its dungeons and hospitality.
As a college professor of education (now retired), Dex naturally put his teaching skills to use in the lifestyle. He has presented at numerous events and venues including Summer Bash, Spring Fling,The Floating World, SINSations in Leather, Southeast Leatherfest, Beyond Leather, Kinko de Mayo, Thunder in the Mountains, South Plains Leatherfest, Leatherfet, Lupercalia (Edmonton, CA), The Woodshed, the Tampa Bay Phoenix Club, E-P-I-C Lifestyle Conference 2016, FetishCon 2017, GLLA 2018, and Sin in the City 2019.
Although he loves variety in kinky dungeon activities, Dex's greatest passion is whip play. He has applied his education background to teaching others about whips, using techniques based upon proven theories in the field of adult education. He is the author of Whips in the Dungeon: Singletail Techniques for Play, available on Amazon.
---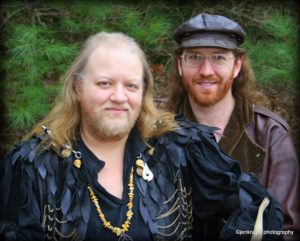 Raven Kaldera is a queer FTM transgendered intersexual shaman. He is the author/editor of 40 books, including "Dark Moon Rising: Pagan BDSM and the Ordeal Path", and "Power Circuits: Polyamory In A Power Dynamic". He and his slaveboy Joshua have been teaching and presenting workshops regularly for many years to the BDSM, Neo-Pagan, Sex/Spirituality, transgender, and other communities. Raven is the 2014 Northeast Master titleholder, and He lives with his big poly family on a homestead in Massachusetts. 'Tis an ill wind that blows no minds.
Joshua Tenpenny has been in service to Raven Kaldera since 2002. He is Raven's devoted assistant, partner, and slave for life. Josh is also a massage therapist, Shiatsu practitioner, and yoga teacher. The 2014 Northeast Slave titleholder, he and his master Raven Kaldera were chosen as the MAsT 2011 Presenters of the Year, and given the 2018 Jack McGeorge Excellence in Education award. He is the author of "Real Service" and the creator of the Service Notebook. He finds spiritual fulfillment through any kind of worthy service.
---
Sir Vice
Sir Vice is an active supporting member of the BDSM community with 12+ years' experience in the lifestyle. Sir Vice offers lifestyle education through his website, LimitsUnleashed.com. Sir Vice has presented at a variety of public speaking forums and events ranging from training classes and trade shows to top executives at Fortune 500 businesses. Sir Vice's seasoned experience allows Sir Vice to successfully engage Sir Vice's audience – delivering classes effectively, consistently, with enthusiasm and patience. A strong proponent of responsible and consensual exploration, Sir Vice participates regularly with organizations such as TES, MAsT, NELA, NCSF, and many others to speak on various lifestyle topics. In Sir Vice's personal time Sir Vice enjoys practicing martial arts, hiking, playing music, gaming, and furthering his study of psychology, behaviorism, physiology, and a variety of eccentric subjects. You can also follow Sir Vice on Facebook and Twitter @LimitsUnleashed
---
soumise
soumise's lifelong passions for movement, education, and helping people are evident in her presentations. A former professional ballet dancer turned world ranked international style ballroom competitor, she has spent her 30+ year career blending the artistry of dance with the sciences of biomechanics, anatomy, kinesiology, rehabilitation and exercise. Her Master encourages and supports the integration of her professional interests into the BDSM lifestyle. soumise presents diverse workshops and educational events that engage, inform, and entertain participants of all levels in a variety of subjects. She holds certifications in a wide variety of movement and somatic modalities and will usually think to ask "do you really want to know" before she totally geeks out in her answers to questions in these areas. Her time is divided between working with her clients and students, training instructors and helping her Master, Sir Vice, with Limits Unleashed LLC. She also enjoys turning cocktails into cupcakes for the SSASE NJ munch, and making lifestyle friendly clothing and accessories for her Etsy store, ViceDeSoumise1.
---
Orpheus Black
Southern California Leather M/s titleholder, published author and erotic educator, @OrpheusBlack specializes in hierarchical dynamics, non-monogamy, and extreme sexual encounters. He's lent his expertise to shows such as Chocolate Radio, Night Calls, Love, Sex & Hip Hop, The Sex Nerd Sandra Show & The Dr. Susan Block Show. Currently, he hosts a monthly podcast called The Tyrant Thinks. Orpheus is also a regular presenter at DomConLA and is the founder of Cirque de Sade.
---
NookieNotes
NookieNotes, known by most as Nookie, grew up in the lifestyle and around people of every color and bent. Her primary fetishes are communication and behavior modification. She's a lifestyle dominant who runs her relationships and enjoys switching in the bedroom. She is currently building a new kinky dating site: https://datingkinky.com
---
NauttiBoy
NauttiBoy has been exploring kink for many years now, from bottom to Top (and a few places in between). He views everyday as an opportunity to try or learn something new, and loves to share his knowledge and experience with whomever he comes in contact with.
NauttiBoy has taught in the beauty industry as an International Platform Artist for over a decade, visiting countries all over the world. He now brings his art and talents to share with our community. He has presented at TES (The Eulenspiegel Society) and the IronBell Academy, as well as LIFE in Nassau and APeX (Albany Power Exchange). NauttiBoy has also presented at conventions such as The Floating World, Brimstone III & IV, TESFest and WinterFire. He may be very "nautti", but he plays so well with others!
---
Sasori_D and SatyrsNotHaters/Mikki
Best described as a "reaction fetishist" and sadomasochistic switch, Sasori_D has spent his kink journey exploring the various means upon which he can elicit yelps, moans, giggles and screams from those who are ensnared in his ropes. Initially trained in his home country of Australia, Sasori_D traveled to New York City where he expanded his repertoire with formal education and a plethora of diverse intensives; the result is a style that emphasizes connection, calculated risk, and jovial sadism.
SatyrsNotHaters/Mikki (any human pronoun) is a queer kinkster who can frequently be found on the receiving end of things. Combining real life experiences and professional education skills, they
bring an undying passion for sharing and evolving into their kink practices through bottoming and self-rigging in rope, community building, developing self- and body-awareness, upping their communication skills, and making good bad decisions (#teamBadDecisions). Mikki revels in opportunities to grow and build their self- and community-care toolkit through courage, connection, and vulnerability.
---
Lady Estrella
Lady Estrella (@plaisirnoir on FetLife) has been unknowingly kinky since she was a little girl. She loves to explore most flavors of kink and is always looking to push her and her partners' personal edge. Being a sadistic trouble making pain in the… everywhere little kitten princess who makes you suffer is her happy place. She's also a body piercer and brander trained by Fakir Musafar. Lady Estrella is a member of ClubFEM NYC & TES. She has taught at LIFE in Nassau, ApeX Summer Bash, GKE:NE, Dark Odyssey Summer Fest, TES, EPIC, Wicked Women, SubCon, Iceland's BDSM community and performed at The Floating World 2014.
---
Steven / Carnal_Knowledge
Steven / Carnal_Knowledge founded Building Blocks, the BDSM education program in Las Vegas. That group has formed partnerships with several respected non-profits throughout Vegas. He now sits on the board of Las Vegas Pride and organizes the adult-only space at the Las Vegas Pride Festival. He started two dungeons in Vegas; both failed for business reasons, and he is now on the third. He is a repeat presenter for GenderFest in Vegas, Behind Closed Doors in Tucson, International Ms. Leather/International Ms. Bootblack in San Jose, and Trauma in Columbus, and he supports all sex-positive conferences and events hosted in Las Vegas. His work has affected legal and social change for gender and sexual minorities in Vegas. He lives with his slave in a 24/7 total power exchange relationship.
---
Alex and Madeline
Alex and Madeline are both trained scientists who love to use their analytical minds and love of learning both in the bedroom and the dungeon. They have been very active in the Chicago, Minneapolis/St. Paul and now New York communities, helping to run BDSM organizations, assisting with large-scale events, and teaching classes on various edge play techniques. They have a reputation for enjoying some of the odder branches of BDSM play and for being lucky to have found each other's sick minds. Alex can be found on Fetlife at ninjajuicer and Madeline can be found at saltygoodness
---
Somersettop
Somersettop is a pansexual English sadist who has worked as a sexual health educator for many years, he now travels the world seeking interesting experiences. When not doing evil things in a menacing but sexy English accent he is involved in politics, and has been campaigning in UK around extreme porn laws. He is also a trainer in a number of fields and an experienced host and compère
---
Dee1234
Although newer to the lifestyle, as a clinical psychologist, along with her passion to teach and inspire others, Dee brings with her a desire to share her knowledge as it pertains to the kink/BDSM lifestyle/Mental Health. She is passionate about all things rope, edge play, and education (especially bottom focused education ;p). She has presented for various groups such as: South East Indiana Kisnksters (SEIK), IMAS (BMV 2018), and Great Lakes Leather Alliance (GLLA 2018).
---
Thista
Thista Minai is an author, priestess, ordeal facilitator, and gleeful sadist. Benefiting from a professional background in education, Thista teaches classes on a wide variety of topics, including sacred sexuality, the ordeal path, catharsis, impact, and needle play. With more than fifteen years of experience in designing and conducting rituals, Thista travels the country championing the value of spirituality and empowerment in kink and BDSM.
---
Sir_James & DichotomousLife
Sir James and slave wendy: 2018 Northeast Master/slave. Combined, we have approx. 30 years of experience in the kink, D/s, and M/s lifestyles. we have enjoyed teaching about many aspects of M/s and power exchange relationships at events such as BESS, Black Rose, EPIC, Southwest Leather Conference, and many MAsT chapters. We enjoy connecting with likeminded M/s singles and couples, and those who are new to exploring power exchange relationships.
---
Boymeat
Phillip Wolf, more popularly known as Boymeat, is a native New Yorker. Discovering The Eulenspiegel Society at the age of 19, he quickly became an active participant and presenter in the New York SM scene. Best known for his outreach to the younger members of our community, he co-created the concept of The Next Generation (TNG), specialized groups serving young adults between the ages of 18 and 35 who are interested in SM. Boymeat was the co-founder of both TES-TNG and GMSMA-TNG, groups that helped kick off the national TNG movement. Also known as a SM educator, he has taught at almost every major educational event in the United States as well as present keynote speeches at SM Odyssey's Folsom Fringe 2007, Rio Grande Leather 2007, TNG4: Bound for the Bay in 2008, and South Plains Leatherfest 2012. Still a New Yorker now with a wife and two cats, he is still the man who nerve.com said "makes the Marquis de Sade look like Pat Boone."
---
Mr. Taqtiks
MrTaqtiks is a certified hypnotist and experienced military instructor known for his interrogation classes. He was a founding member of the Charmed Hypnosis conference, and currently helps to run the Black Rose Hypnosis Special Interest Group. He has presented at multiple events including BlackBEAT, Black Atlanta Munch, Weekend Reunion, TES, Black Rose, Tawse Manor (New Zealand) and many others. As a member of the kink community he works to promote positive consent, risk aware practices, inclusivity, and community development.
---
LadyA (LadyAurora)
Lady A – aka The Kinky Empress
She has been in the lifestyle for over 20 years, actively exploring the nuances of kink from Southeast Asia to Latin America, and many locales in-between. Growing up overseas meant she started her journey in the lifestyle with an international bent, and has led to a multicultural attitude towards BDSM, kink, and relational dynamics.
Affectionately dubbed "The Kinky Empress" by her Houston community, She identifies as a Sadistic Dominant, covered Leather Master, and Pansexual Polyamorous cis Female. Today, she is a member of the Houston Scene, involved in a diverse array of projects, groups, and community activities, including NLA, HPEP, LeatherSIG, Houston Pony Play, Houston Mentor's Alliance, Houston GLBTQ Caucus and many others. She has served on a variety of Boards and in a variety of leadership positions for the past 10 years, often focusing on education and outreach. She is best known for her presentations, demonstrations, and discussions on various EdgePlay topics.
She believes in the power of education and growth, and becoming the best version of ourselves. To that end, she teaches Leadership and Communication classes, and is also working on completing her second Masters' degree. She is an avid reader, gamer, cosplayer, published author, mother, political activist, and volunteer and foster for numerous animal rescues. She shares her life with a loving husband & family, assorted 2 and 4 legged children, and extended Leather Family. They currently call Houston, TX home.
---
Dinosaur
Dinosaur joined the scene in Pittsburgh and is now local to DC. She has bottomed for rope performances in DC, Amsterdam, and at Folsom, and was suspended in rope for the TV show Banshee. She is passionate about education that mitigates the risks of edge play. She is trained in emergency medical response and has done extensive research on blood choking. She loves traveling and learning about the kink norms and education models in other cities and countries.
---
Carter Brûlée
Carter identifies as a pansexual, polyamorous, trans man. He walked into his first munch at 18 years old, before he had even graduated high school, and has been hooked on the community ever since. Carter identities as a bottom leaning switch with a love of silly and playful scenes, from both the top and the bottom. He has a bubbly personality and a passion for education that he brings into all of his teaching endeavors. Carter has taught for NELA and has taught various sexuality-related topics (including polyamory, kink, consent, and negotiation) for academic institutions.
Twitter: @CarterBrulee
Fetlife: CarterBrulee
---
AnyaDemure & Marceline_VQ
Anya Demure is a rope bondage practitioner, educator, and performer who practices rope primarily as a model and through self tying. She harbors a passion for creating and embodying aesthetically interesting body shapes, and delights in enduring physically challenging rope experiences. For her, rope bondage is endurance, sex, exercise, community, movement, art, collaboration, and mutual experience. She is also dedicated to promoting bottom-inclusive education and presentation, and fostering safe, friendly, and encouraging environments for people to learn rope. She has been fortunate to teach, tie, and be tied in various communities in the US and abroad, but calls Brooklyn home.
Marceline VQ is an internationally recognized shibari artist whose work challenges viewers with aesthetic and technically complex rope work. She engages rope from all perspectives—as a model in her own rope, with other models in her rope, and as a model in others' rope—allowing for a deeper understanding of the medium as a creative and connective tool. She adores the sensory experience of being in rope, as well as the idea of becoming "human sculpture." Her work engages in conversation with themes from quantitative disciplines including geometry and physics and with themes from qualitative disciplines including analytic philosophy and universal empathy. She has studied with shibari communities across the globe, and is classically trained in visual fine arts. Marceline is based in New York City, and with her co-creator/model Anya Demure, works to create rope imagery that is surprising and inventive.
---
LeeAllure
LeeAllure first hypnotized someone with her phone at a bar, and has been hooked since! Lee is the author, with DJ Pynchon, of Hypnotic Amnesia, and organizes DeepMindDarkWood, a hypnosis retreat, the London Hypnosis Workshops and NEST, the world's largest and longest running tickling convention
---
Master Griffin (MasterCoyWolf) & slave Rebecca (Coyote_Princess)
Master Griffin is the proud owner of His slave, Rebecca, living together 24/7 as Master and slave, they are also able to explore their Poly, Bi, Switch sides. Being together the last four years, they found they have a passion for sharing their experience with others. Their Leather Family, Castle Griffin, is an educational and support resource for the leather and kink communities. They enjoy engaging others about the lifestyle with all the diversity that makes it spectacular while being able to present on a wide variety of topics from Protocols and Rituals, to Kidnapping and Wrestling. Together they currently hold the 2019 NorthEast Power Exchange title.
---
AttorneyLadySteele/LadySteele
Lady Steele has been publicly in the Leather community since 1999, but she has been kinky for her entire life. She has presented across the U.S. and currently resides in Atlanta where she operates her law practice that serves alternative lifestyles.
Lady Steele held the position of Social Coordinator for NLA – Atlanta during its last incarnation in Atlanta. She is the co-founder and co-lead of the Center of Learning and School of Success (C.L.A.S.S.), the Worthless Bastards (Cigar) Club (W.B.C. – Atlanta), and The Leather Coterie's (T.L.C.) Atlanta Chapter. She continues to give back to the community as Board Support, convention attorney, and Vendor Coordinator for the Leather Leadership Conference.
Another of Lady Steele's passions lies in presenting about the law. Her presentations cover many family, civil, criminal, contracts, and business law topics. Specifically, Lady Steele's favorite legal topics to cover are how to protect BDSM families, poly families, and multipartnered households through legal documentation.
Furthermore, Lady Steele's Bachelor's degree in Microbiology uniquely qualifies her to speak on the topic of safety where the breaking of skin is involved, so another passion of hers include presenting on the topics of bloodplay, needle play, and cuttings.
When she is not presenting in person, Lady Steele shares her knowledge through her BlogTalk radio program, "The Legal Show," which she co-hosts with renowned Sci-Fi author Bennet Pomerantz. She has appeared five times on the KinkyCast, where spoke to the hosts on the topics of Consent Apps, No Collar, No Problem, BDSM and the Law, Cigar Service and Play, and Poly and the Law. She has also appeared on the Poly Podcast, where she again spoke about Poly and the Law. Her BDSM and the Law podcast on KinkyCast has garnered more than 20,000 listens and downloads.
Lady Steele has presented at DomCon – Atlanta and New Orleans, NEAAL (Dallas), SAADE (Austin), BADD's 2013 Seminar (Dallas), the Pragmatically Kinking Munch (Dallas), MDHL – Dallas, the Dallas Poly Potluck (Dallas), The Red Chair (Birmingham), Upstate TNG (South Carolina), Frolicon (Atlanta), Southeast Leather Fest (SELF) (Atlanta), the Eagle – Atlanta, 1763 (Atlanta), DragonCon (Atlanta), Sex Down South (Atlanta), M.A.R.K.S.(McDonough, GA), SUBMIT (Atlanta), InfinityCon (Atlanta), ConNooga (Chattanooga), the Sandy Kinksters (Sandy Springs), the Houston County Munch, Atlanta Poly Weekend, NEADS (Anniston, AL), ALE (Jacksonville, FL), the Evansville Munch Bunch (Evansville, IN), the Ocala Munch (FL), The Loft (NC) and for Master Ben's House (Charlotte, NC).
---
Madame Tak
Madame Tak is a professional and lifestyle Domme with a flair for intense experiences and facilitating scenes. As a graduated Master, this polyamorous Pansexual uses her deep love of education and communication to share with others so they can strengthen their own connections with BDSM. Her style has been shared with residencies at Club Orpheus and Risqué, but her dedication to the community can be seen in her involvement with BESS and the Baltimore Playhouse. Her experience includes versatile impact and sensation play, navigating multi leveled relationships from long distance to live in submissives, running a Dungeon, as well presence and intention.
---
Ma'am Karen
Violetfmme aka Ma'am Karen is a Leatherwoman, Dominant, Sadist, Educator, Group Founder and Leader, community Volunteer, House Member, Wife, Ma'am, Matriarch of a Leather Family, Mentor, Treasurer of the LeatherHeart Foundation, and an active participant in the Hampton Roads Virginia kink scene, for nearly 20 years. She is an active participant in the Mid-Atlantic Leather scene, and she has presented both locally and regionally, and at major kink events. She is also 1 of the Producers of the MXVirginia Leather Contest.
---
RoseOfSalt
Laura has been active in her local kink scenes and practicing polyamory for the last twelve years, and predictably has learned a great deal by making a large number of mistakes. She's a mom of two kids under five, who she is raising with two polyamorous co-parents, and additionally has partners outside the home. This, combined with an educational background in literature, sexuality, and the law, has helped her build a critical framework in which she examines relationships and relationship skills that she hopes others will also find useful.
A video featuring her polycule recently went viral, with over 30 million views at the time of this writing— a little bird tells us that teaching about and advocacy for polyamory may partly be penance for a stint as clickbait.
---
AskJeeves
AskJeeves discovered alt.sex.stories.bondage when she was 14. She's been like this ever since.
---
Mistress Sky
Mistress Sky is a lifestyle domme. In her professional life, she is a relationship coach and an alternative lifestyle counselor. She has written many, many articles and essays on dominance/submission topics (See her blogs and kinkweekly.com). She is the author of Unequal Partnership: a dating guide for loving non-egalitarian relationships (Amazon and elsewhere). Contact her on Facebook and LinkedIn (gates counseling) and at her websites, http://gatescounseling.com and http://sky-collective.com.
---
D-Artagnan
D'artagnan is a New York based Hypnotist and a co-coordinator for TES's Hypnosis SIG. Dedicated to encourage creative-careful-experimentation in new and experienced hypno-people alike they have poured an undignified amount of time into developing interesting presentations that make you think.
---
Orchid
Orchid is the proud Co-Owner of Orchid and Serpent Stores. She has been slinging her sexy wares across the county, explaining to others how to use them, and conducting "research" on how to use toys most effectively. Additionally, she spent a number of years teaching Biology, Sex Ed, and Animal Reproduction to the masses. She now combines all of her knowledge to further teach the kink and poly communities.
---
Blackestbrown
Blackestbrown is a playful queer sadist who loves to intermingle pain with pleasure and mix both of those with fun. He is an educator and creative with a love for opening up minds and sharing new insights. His primary kink is compression…you should let him squeeze you.
---
VintageKinkyDoll
VintageKinkyDoll has been active in the lifestyle for over 18 years. She is a participating member in the scene of numerous locales and very active in the Houston and Texas scenes. She is Chairman of the Board for HPEP, a member of HEAT, Eros and SCK. She is best known for her presentations and demonstrations on dollification, degradation and objectification, from a submissive point of view and learning.
Her vanilla life is filled with family, friends, being a business owner and serving the community by serving on a few too many vanilla committees and boards.
---
Ian Michaels
Ian Michaels is a BDSM educator in various fetishes. Along with his wife, "Trophy Wife", they have developed the Fetissage brand of workshops. Ian was able to combine his background in massage therapy and his Master's Degree in Exercise Science to produce unique sensual BDSM workshops. Additionally, Ian has developed workshops geared towards his love of bondage. Prior to becoming a BDSM educator, Ian taught at a post-secondary technical school. Both Ian and Trophy Wife have had the privilege to teach at TesFest, Weekend of Wickedness, E-P-I-C, Studio 58, Paddles, The Kink Shoppe (Philadelphia), Feel Me Breathe Tethered Together and many other venues. Ian is also a semi-professional photographer, as evidenced by the photographs on his profile.
Ian is available for private instruction, as well as private group instruction. Please feel free to send a Fet message to inquire about rates.
---
KilimanjaroDan
KilimanjaroDan is a ball busting and wrestling aficionado with many years of experience as a bottom. He also enjoys bottoming to breath play and is trained in therapeutic hypnosis. Finally, Dan is an avid hiker, mountaineer, and shameless punster.
---
Marty_McFry
Marty has been an active kinkster and educator in the Philadelphia area for the past five years. His primary passion is electric play with the violet wand his tool of choice. He regularly service tops electric at most Philly events and enjoys introducing new people to it, or scaring the more experienced with it. He also has passion for rope, wet & messy and WTF scenes and plays nicely with others most of the time. He runs two of Philly's rope shares, teaches electric in small group settings and takes part in multiple groups that center on educating both experienced and new members of the BDSM community.
---
Miss Simone B.
Miss Simone B. is a sadomasochistic switch who has been active in the public kink scene for the last five years or so. Her love of the more extreme has grown with her appreciation of enthusiastic and well educated consent culture. She applies this to not only her lifestyle kink but as a Professional Dominant as well.
---
Dubious
Dubious is a rigger in the NY/NJ scene who enjoys sensual scenes with a focus on touch, mindfulness, connection, contact, and control.
---
Jewel (Jewelweed)
Jewel (she & they pronouns) is a switchy bisexual polya genderqueer Jersey femme Daddy. She is Mid-Atlantic Leather Woman 2019. You can find them most frequently in the dungeon: co-producing NJ's largest pansexual/queer BDSM party for the past five years with Conduit Enterprises; serving as a dungeon monitor at conventions; having tough conversations & writing policy behind the scenes; and educating on kink skills around the country!
As both a sadistic Sir and a filthy boy who adores boots, singletails, rough body play, caning, roleplay, history, ethics & aesthetics; Jewel is proud to represent The Next Generation of the BDSM & leather communities: First as a TNG chapter founder & leader from 2013-15, now on-staff as International Ms Leather & Ms Bootblack's Under-35 Liaison (since 2015).
---
MrDream, PerfectMonster & GleefulAbandon
MrDream (David) has been organizing and presenting for the Hypnokink community since 2010. He is a co-founder of the Hypnosis New York group, the Deepmind Darkwood hypnosis retreat, and has attended all of the NEEHUs and taught classes on hypnosis, kink, intimacy, sex and romance nationally. He is the founder of the League of Ethical Evil Hypnotists; muahahahaha. He is a former board member for TES.
PerfectMonster
PerfectMonster (you can call her Pinky!) is a sadomasochistic, quirky, poly, queer kinkster who has been involved with BDSM for over 16 years. Pinky brings her comprehension and experience from both sides of the flogger to her ever growing knowledge of erotic hypnosis. She has presented at various conferences (including MindQuake, Charmed!, NEEHU, and TES Fest) and she's a co-facilitator of the TES Hypnosis SIG. If you're ever looking for Pinky, just follow the trail of bubbles!
GleefulAbandon
GleefulAbandon is a submissive hypnofetishist. In addition to being a hypnokink educator, she has also written professionally about her fetish. She is an active volunteer for TES as Media Representative.
---
UndergroundSea
Sea has attended kink events for 20 years. He presents nationally to help people communicate and understand each other's kink needs, especially to understand submission. He currently serves on Advisory Board for DomCon BDSM weekend conventions. Previously, he wrote a BDSM column for fearlesspress.com, represented BDSM on college campuses and mainstream forums, and chaired Austin TNG for 4 years. He splits time between Austin and DC. He performs with a DC BDSM-themed burlesque and comedy troupe. He previously helped keep Austin weird by arranging fetish nights where he wrote, performed in, and arranged music for fetish shows. BDSM has influenced his artistic expression in the form of fetish photography, DJing music, dance, writings, and kinky stand-up comedy.
---
If you have any questions, please email us at programming@tesfest.org